Technical parameters
XCMG QAY130
Brand: XCMG

Model: QAY130

Environmental class: EURO 2-3 / EURO5

Load capacity: 130,000 kg

Curb weight: 56810 kg

Gross weight: 57000 kg

Overall size (LxWxH) mm: 15028x3000x3990

Engine model: ISM440E20

Engine displacement, CC: 10824

Engine power, kW: 324 (441)

Fuel: diesel

Fuel consumption per 100 km (l): ~78

Top speed: 76 km / h

Number of cylinders: 6

Min. turning diameter m: 24/18 all wheels

Min. distance from ground mm: 300

Axle weight distribution: 11000 kg / 11000 kg /11000 kg /12000 kg / 12000 kg /

Wheelbase, mm: 1420+2420+1800+1420+1505

Front / rear track mm: 2750 /1620/2000/1620

Overhang front / rear mm: 2452 x 2610

Angle of approach: 24 °

Entry angle (front overhang): 17°

Minimum design operating radius (m) 3

Main boom length (m): 12.8

Jib length, (m): 12.8

Length of fully extended main boom (m): 50

Length of fully extended boom + jib (m): 70

Boom lifting time (s): 60

Total boom extension time (s): 600

The maximum speed of rotation of the platform (ex./m): 1.9

Lifting speed (single row) main winch full load (m / min): 100

Lifting speed (single row) auxiliary winch full load (m / min): 100

The number of axes: 5

Number of tires: 10

Tire dimension: 14. 00R25

Leaf springs: 8 / 8 / 13 / 5 / 5 / 7

Number of seats in the cabin: 3

Steering: Hydraulic steering

ABS

Boom type: Telescopic

Factory warranty: 1 year

Manufacturer: XCMG

Country of origin: China

Factory manufacturer: Xuzhou Construction Machinery Group Co., Ltd
Distributor: Official Authorized Distributor in Uzbekistan: NAVOI PROM GRAND.LLC (NPG.LLC)
---
---
XCMG XCMG XCMXCMG XCMG XCMG XCMG
QY130K-I, , QAY130, , XCT130, XCA130
---
---
---
DESCRIPTION
The Chinese concern uses for production the Asian equipment which on quality meets the European standards. This makes it possible to produce a four-wheel drive crane with high technical characteristics, a large set of functions
Increased resistance. Models are equipped with outriggers that can be extended over a long distance. Some technique is supplemented with a fifth module to enhance stability. Stability during crane manipulation is achieved by placing the center of gravity at the bottom point. Hydraulic drives during turns and lifting remove the bulk of the load from the chassis and the control drive.
Maneuverability is increased thanks to the swivel front and rear axles. They allow to carry out turn of equipment on a place. Automatic leveling system evenly distributes the load relative to the structure.
The safety system includes a mechanism that automatically limits the weight of the load, the free movement of the cable and the torque limiter. The operator is easily oriented in space and controls even in the most difficult conditions thanks to the presence of a telemetry control system. The cabin is equipped with ergonomic controls-joysticks, provides a wide viewing angle.
The reliability of the design is a consequence of the use of Swedish high-strength steel, hexagonal shape of the boom profile and balanced load distribution.
The operator's comfortable workplace fully meets safety requirements, has a wide viewing angle and allows all manipulations directly from the cabin.
XCMG QAY130 all-wheel drive truck crane is equipped with a remote self-diagnosis system. The machine operator is able to observe and control the working conditions through a smartphone or personal computer.
XCMG QAY130 all-wheel drive cranes are equipped with a mechanized interface that displays operating conditions in real time. XCMG QAY130 cranes have a widescreen LCD display with adjustable backlight level, a diagonal of 104 inches and a microchip of 32 bytes.
XCMG QAY130 cranes are equipped with a load capacity control system. Well-established range of rotation of the crane. XCMG QAY130 crane is equipped with a hydraulic motor that does not give unnecessary noise and vibration, which makes it possible to keep all mechanical and electronic systems in working condition for a long time.
XCMG QAY130 truck crane has all-wheel drive all-terrain 5-axle crane chassis. The rise of the middle axis. By turning the front and rear axles, the turning radius is reduced. Synchronous rotation of front and rear axles: crab stroke.
Perfect and highly efficient control system.
A new type of compact design of the boom, and inserted into the end of the boom slider to increase the stability and reduce the length. 5-section boom has a U-shaped ovoid boom profile, one cylinder for automatic extension of boom sections, different high-altitude characteristics can be realized in different ways. Lifting height up to 50 m. modern high-strength steel is used To create optimized retractable boom sections.
The ovoid profile of the boom allows to evenly distribute the load on the boom. The compact design of the boom. Built into the end of the boom slider. One cylinder for automatic telescoping control.
Built-in PLC computer control system, easy maintenance, highest functionality and maximum safety.
XCMG QAY 130 5-осьный телескопический, вездеходный автокран
XCMG QY 130K-I 6- осьный телескопический, вездеходный автокран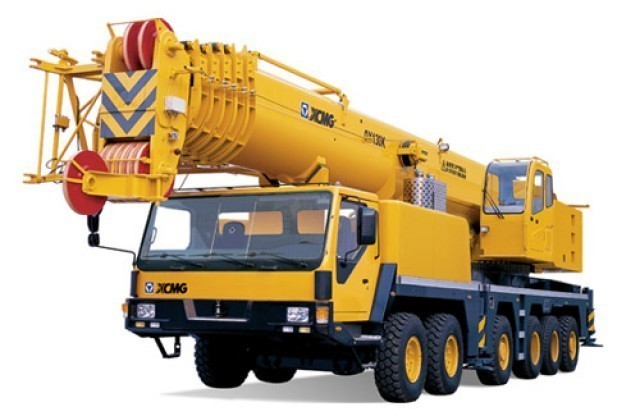 XCMG QY 130K6- осьный телескопический, вездеходный автокран
XCMG XCT 130
5-осьный телескопический, вездеходный автокран